Niddereg Profil Scissor Car Service Lift Fabrikant beschwéiert CE guttgeheescht
Technesch Donnéeën
Produit Tags
Scissor Car Service Lift Low Profilgemaach vun Daxlifter.Lifting Muecht erreechen 3000kg mat 1800mm Levée Héicht.Offer pneumatic Spär benotzen 0.4mpa pneumatesch Pompel.Support Volt Mooss gemaach fir an de Client d'lokal Regelen ze fit mee normalerweis maachen 380v oder 220v.Mir wielen 2.2kw staark Kraaftmotor fir d'Aarbechtsleeschtung ze garantéieren. Dëst ass eng wichtegAuto Service Liftam Atelier dee populär ass.
A: D'Kapazitéit vum Low-Profil Schéierlift ass 3ton.
A: Schéierlift maximal Hebe Héicht kann 1,8m erreechen.
A: Eis Produkter gi vun der Fabréck produzéiert's vereenegt Produktiounslinn, an d'Qualitéit vun de Produkter ass CE zertifizéiert.
A: Both the product page and the homepage have our contact information. You can click the button to send an inquiry or contact us directly: sales@daxmachinery.com Whatsapp:+86 15192782747.
| | |
| --- | --- |
| Modell | LSCL3018 |
| Ophiewe Kapazitéit | 3000 kg |
| Lift Héicht | 1800 mm |
| Min Plattform Héicht | 110 mm |
| Single Plattform Längt | 1500-2080 mm (justierbar) |
| Single Plattform Breet | 640 mm ép |
| Allgemeng Breet | 2080 mm |
| Ophiewe Zäit | 60s |
| Pneumatesch Drock | 0,4mpa |
| Hydraulesch Ueleg Drock | 20 mpa |
| Motor Muecht | 2,2kw eng |
| Stroumspannung | Personaliséiert |
| Spär & Spär Method | Pneumatesch |
Als professionnelle super niddereg Schéier Auto Lift Fournisseur, hu mir professionell a sécher Lift Ausrüstung fir vill Länner ronderëm d'Welt geliwwert, dorënner Groussbritannien, Däitschland, Holland, Serbien, Australien, Saudi Arabien, Sri Lanka, Indien, Neiséiland, Malaysia, Kanada an aner Natioun.Eis Ausrüstung berücksichtegt de bezuelbare Präis an exzellenter Aarbechtsleeschtung.Zousätzlech kënne mir och perfekt After-Sales Service ubidden.Et gëtt keen Zweiwel datt mir Äre beschte Choix sinn!
Grouss Droen Kapazitéit:
Déi maximal Belaaschtungskapazitéit vum Lift kann 3,5 Tonnen erreechen.
Héich Qualitéit Stol:
Et ass aus Stolmaterialien, déi de Standarden entspriechen, an d'Struktur ass méi stabil a fest.
Héich Qualitéit hydraulesch Pompelstatioun:
Garantéiert de stabile Hebe vun der Plattform an eng laang Liewensdauer.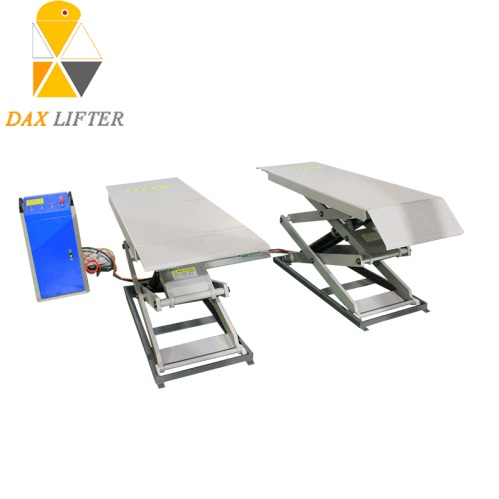 Laang Garantie:
Gratis Ersatzdeeler Ersatz.(Mënschlech Ursaachen ausgeschloss)
Rampen Design:
Et ass bequem fir den Auto vum Buedem op d'Plattform ze plënneren.
CE Genehmegt:
D'Produkter produzéiert vun eiser Fabréck hunn CE Zertifizéierung kritt, an d'Produktqualitéit ass garantéiert.
Schéier Design:
De Lift adoptéiert e Scheren Design, wat d'Ausrüstung méi stabil mécht beim Gebrauch.
Leeder Sécherheetsschloss:
Wann de Lift op verschidden Héichten eropgeet, kann et sécher fixéiert ginn fir ze verhënneren datt se falen.
Onofhängeg Kontroll Panel:
Den Design vun der onofhängeger Kontrollpanel garantéiert datt d'Ausrüstung méi bequem op an erof kontrolléiert gëtt während der Benotzung.
Niddereg selwer-Héicht:
Déi minimal Plattform Héicht fir ultra-niddereg Profil ass 110mm.
Standard Stol:
Eis Schéierliftausrüstung benotzt Standardstahl, wat haltbar ass.
Casw 1
Eise venezuelanesche Client huet eisen nidderegen Profil Schéierlift kaaft an en a sengem Autoreparaturgeschäft installéiert fir him ze hëllefen den Auto besser ze reparéieren.D'Héichtbereich vun der Hebeausrüstung ass 110mm-1800mm, a verschidde Héichten kënne ugepasst ginn fir Ënnerhaltpersonal beim Reparatur vum Auto ze hëllefen.
Casw 2
Eis amerikanesch Clientë kafen niddereg-Profil Scheren Liften haaptsächlech fir Auto Reparatur Clienten a sengem Buttek.Säi Buttek verkeeft haaptsächlech Autosdeeler an Ausrüstung.Fir d'Bedierfnesser vu senge Clienten ze treffen, huet hien decidéiert e puer Scissor Autosservicelift ze kafen.Dësen ultra-niddereg Profillift kann direkt um Buedem installéiert ginn ouni ze graven, wat méi praktesch ass.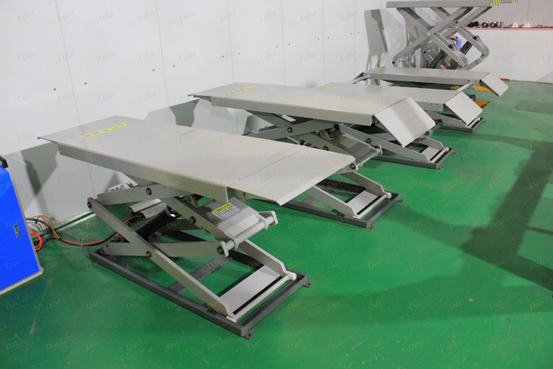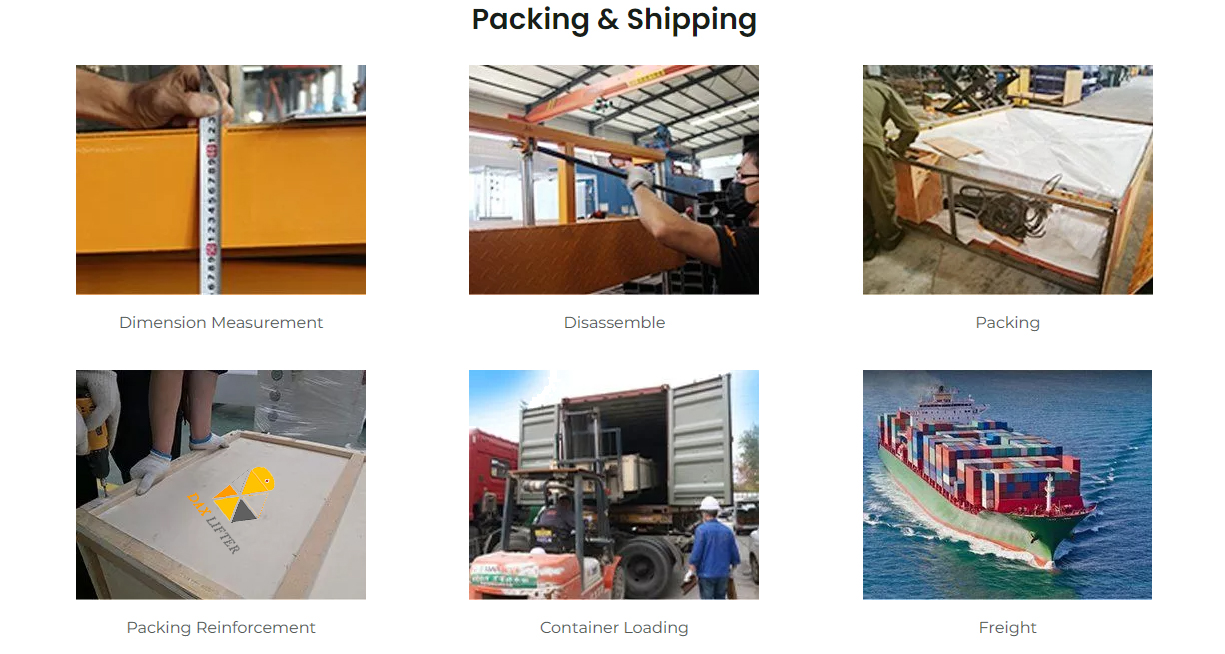 ---
---
Schéckt eis Äre Message:
Schreift Äre Message hei a schéckt en un eis